Many people believe that the problems associated with hunger are confined to small pockets of society or certain neighborhoods but the reality is much different. Right now, many people right here in our community are struggling with hunger. They may have recently lost a job or are disabled and unable to work. They are often hard-working adults, children and seniors who simply cannot make ends meet.
The organization currently serves thousands of local residents out of its low-profile rented storage space. The space was never designed for the quantity of traffic it is experiencing.
The current space is fraught with barriers for clients, staff, volunteers, and other constituents. The nature of the space presents many obstacles.
As the population of the areas surrounding NeighborGood's service area continues to grow, instances of food insecurity are expected to increase accordingly.
NeighborGood seeks to build a 9,000+sf facility next door to its current location.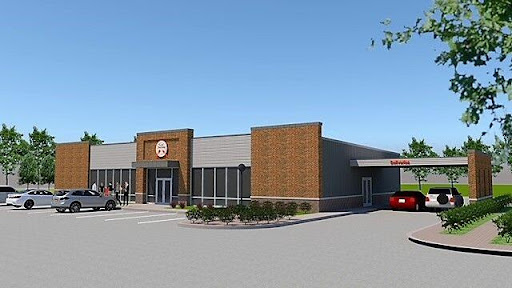 The facility will have the following attributes for optimized service to the expanding food security needs of this service area:
3,000sf of retail style space for client selection of food and hygiene items (with shopping baskets and carts)
Expanded on-site storage to provide a varied inventory
Energy efficient commercial cold storage for distribution of more fresh produce, protein, and dairy
Secure, efficient administrative offices
Private consultation area for nutrition/horticulture education and community health clinics
"Soil to sustenance" initiatives: community garden, edible landscaping, farm surplus, and composting
Flexibility and capacity to become a point of distribution (POD) and emergency operations center (EOC) for crisis response
Fully ADA compliant
To learn more about our plans for a new facility, including campaign budget, project rationale, and fundraising progress, please contact NeighborGood Executive Director Melissa Nelson at [email protected] to request a phone call, zoom call, or in-person meeting in the near future. We would love to share more about our latest progress!
NeighborGood is governed by a Board of Directors. The Capital Campaign Committee is composed of five board members with a passion for addressing this region's need for a full-service food security agency and relevant subject matter expertise. The Capital Campaign Advisory Committee is a collection of partners and advocates that have endorsed and expressed enthusiasm for this historic project and meets on an individual basis with NeighborGood board members and representatives as needed.
Capital Campaign Committee
Michelle Christensen, Board Member Owner, Papillon Windows and Siding
Andrea Powers, President, Board of Directors Community Volunteer
Chris Henkenius, Board Member Owner, H4 Technology
Becky Jackson, Board Member Affiliation Needed
Melissa Nelson Executive Director, NeighborGood Community Pantry
Capital Campaign Advisory Committee
List forthcoming
The NeighborGood Board of Directors is currently pursuing significant gifts and grants as we urgently seek to gather the resources necessary to begin construction.
As we are seeking gifts for a once-in-a-generation historic project, gifts may be pledged over the course of several months or years for the convenience of the donor or funding agency.
We intend to recognize the generosity of each leadership gift to the capital campaign. NeighborGood assures donors that upon completion of the expansion and renovation, capital campaign donors will be recognized prominently through custom signage that is consistent with the design of the building.
Upon completion of the campaign, NeighborGood board and staff will have conversations with each donor, in order of significance, to assign names to spaces if desired.
If you are interested in making a gift to this campaign, we invite you to communicate directly with one of the NeighborGood Capital Campaign Committee Members or NeighborGood Executive Director Melissa Nelson at [email protected] to request a phone call, zoom call, or in-person meeting in the near future.
NeighborGood is equipped to accept gifts through our account at the Midlands Community Foundation, cashier check, or bank transfer. In-kind gifts of stock, grain, or other assets may also be facilitated as needed.
For your convenience, you may download a PDF of a multi-year pledge form HERE. Before you make your commitment we would prefer to hear from you directly so we can share more information about this project.